Showroom・Official Distributors
Showroom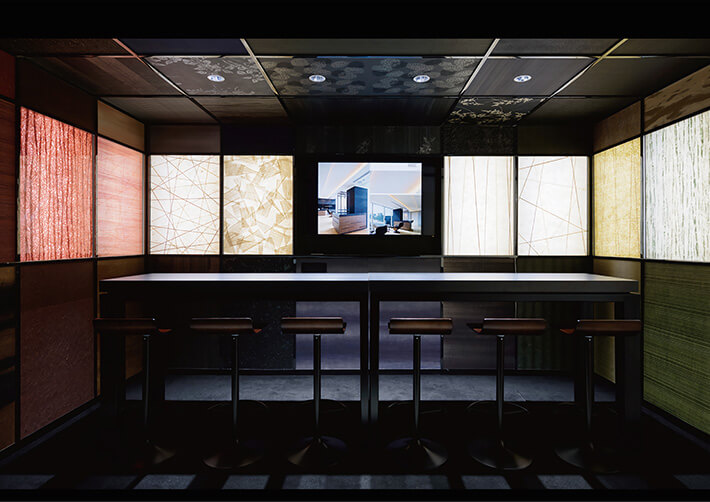 KAMISM showroom was renewed in April 2014. H2,400 wagami papers are displayed. Lighting Papers are also shown in the various ways. Please take a look the different atmosphere in our showroom. Futhermore, the Art panels are displayed. Cutom order is available to change color, size, and desgin. For the stock item, one sheet/meter per an order is available.
Address:2-3-4 Nihonbashi Bakuro-cho Chuo-ku Tokyo 103-0002 Japan
TEL:+81-3-3666-6797 FAX:+81-3-3661-5725
Business Hours:10:00~17:30 Closed:Saturdays/Sundasy/Holidays.
Official Distributors
Please feel free to contact us if you would be iterested to be an official distributors.
Luxembourg・Germany・France・Switzerland
Company:Koma Capital sarl
Address:25, Rue de la Cité 5517 Remich Grand Duchy of Luxembourg
TEL:+352 (0) 42 66 82
E-mail:akreiselmaier@komacapital.lu
Contact person:Mr. Alfred Kreiselmaier
The United Kingdom・Ireland
Company:Renegade London Ltd.
Address:19 Eastbourne Terrace, London, W2 6LG
TEL:+44 (0) 203 624 0925
E-mail:mark@renegadelondon.com
Web:http://www.renegadelondon.com
Contact person:Mr. Mark Sutton
Hong Kong
Company:Super Star Company Limited
Address:Flat A, 20/F, Luk Hop Ind, Bldg, 8 Luk Hop St. San Po Kong, Kowloon, Hong Kong
TEL:+852 2388 9868
E-mail:chris@superstar-hk.com 
Web:http://superstar-hk.com/
Contact person:Mr. Chris Wong
United State of America
Company:Rodolph, Inc.
Address - Corporate Headquarters:
1 Beechwood Way, Briarcliff Manor, New York 10510
Tel +1 212 758 8700
Web:http://www.rodolph.com/locations.html
Contact person:Ms. Cynthia Nugent Degenhardt

Address - Shipping and Receiving:
2061 Main Avenue SE, Hickory, North Carolina 28602
E-mail : Purchasing@rodolph.com
United State of America
Company:Crafits Design Studio / IPPIN PROJECT
Address:67 35th Street. Suite B213B, Brooklyn, NY 11232, U.S.A.
E-mail:contact@ippinproject.com
Web:https://www.crafits.com/
Contact person:Mr. Masa Kaneko
United State of America
Company: Carvart.COM
Address:10 Times Square, 28th Floor, New York, NY 10018, U.S.A.
TEL:+1 212 675 0030
Web:https://carvart.com/

Indonesia
Company:PT. Itoko Sannin Abadi
Address:Serpong Scientia Business Park Tower 2, 2nd Floor Jalan Boulevard Gading Serpong
                Blok O/2 Serpong, Tangerang 15810 Indonesia
TEL:+62 878-2589-6453 
E-mail:herry.kristianto@gmail.com 
Contact person:Mr. Herry Kristianto
China (except Hong Kong)
Company:上海博古进出口贸易有限公司 Shanhai B&G Import & Export
Address:上海市徐汇区徐虹中路20号西岸创意园2栋108室
RM.108, Block 2, Xuhong Zhong Road No.20, Xuhui District, Shanghai, China
TEL:+86 (0) 21 5302 6812
E-mail:shanghaibogu88@126.com
Contact person:许忠秀 Mr. Xu Zhongxiu m. 13816695807

China (except Hong Kong)
Company:上海安好贸易有限公司 Shanghai Anhao Trading Co., Ltd.
Address:上海市徐汇区裕徳路168号徐汇商务大厦2205室
Room 2205, No. 168 Yude Road, Xuhui District, Shanghai,China
TEL:+86 21 62103320
E-mail:duqing_sh@163.com
Contact person:杜青Ms.Duqing MP:13801781190
設計顧問 株式会社RITZ設計事務所(日本東京)

Turkey
Company:Adalı Cam Dekorasyon Ltd. Sti.
Address:Ugur Mumcu Mah. 2137. Sokak No:9 Sultangazi, Istanbul, Turkey
TEL:+90 (0) 212 476 0000
Web:www.adalicam.com.tr
Contact person:Mr. Tolga Unal
Vietnam
Company:Inter Art Saigon Co., Ltd., Ho Chi Minh – Head Office
Address:O-1, TM.01, 1st Floor, Orchid 1 Tower, HaDo Centrosa Garden,
                No. 200, 3/2 Street, Ward 12, District 10, Ho Chi Minh City, Vietnam 
TEL: +84 28 3933 0524
E-mail : info@interart-saigon.com